Understanding our scientific testing may seem confusing at first, and we appreciate that your clients may feel nervous about the whole process. Therefore, we've created a step-by-step guide to talk you through Hair Drug Testing, allowing you to brief clients on what to expect.
Before the appointment
Samples are collected by qualified nurses, with collections either carried out at one of our nationwide clinics or at agreed private venues. Once testing is ordered, it is important that clients:        
Do not cut their hair.


 

Do not dye, bleach or chemically treat their hair.


 

Avoid using hair products that contain ethanol or alcohol.
Doing any of the above can skew results, potentially leading to false positives and miscarriages of justice.     
During the appointment                                     
Before testing commences, identity needs to be confirmed. Clients must present photographic ID along with two passport-sized photos to the sampler; these must show a good likeness, be full face, and they must not be wearing a hat or glasses.


 

The photographs will be redeemed by the nurse, who will sign the back of each before attaching them to the Sample Declaration Form. If the client fails to produce photos, the nurse will take digital images and upload them to our secure website.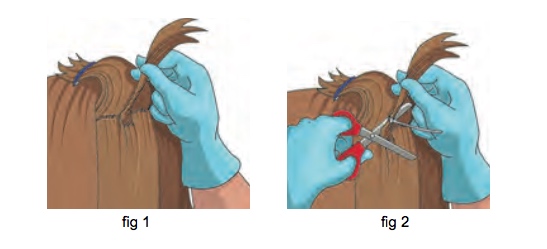 For each hair sample, the nurse will collect around 200 hairs, about the width of a pencil, ideally from the posterior vortex (crown) region at the back of the head (see figs 1 and 2). They will cut within

1mm

of the scalp, and will do this as discretely as possible, avoiding any obvious patches. Up to four separate samples, each of 200 hairs, will be collected depending on the testing required.


 

If it is not possible to collect hair from the preferred region, whether for religious or medical grounds, or if head hair is simply too short, body hair may be taken instead. This will be collected from one single area – either arm, axilla (armpit), chest, or pubic region – and the area of collection will be noted on the specimen envelope. Again, ideally 200 individual strands will be taken.


 

Samples will be placed into foil containers, with the root end clearly labelled (see figs 3 and 4).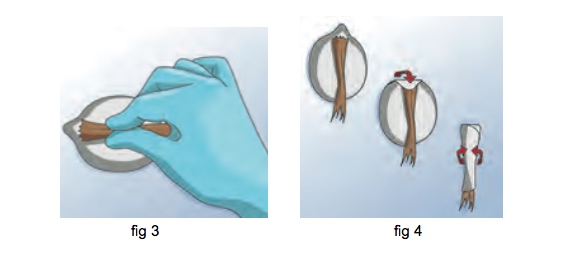 Samples will be placed into a specimen envelope with a tamper-evident seal. This will be dated and signed by both the nurse and the client.


 

The client will then be asked to complete and sign the Sample Declaration Form. It is important that clients provide current and recent medication history, hair products used and chemical treatments administered in the last 6-12 months, along with any other information that can assist our laboratory.


 

If the client is under the age of 16, the signature of a legal parent or guardian is required.
After the appointment
The nurse will securely send all specimens to our lab, and results will usually be issued to the instructing party within five business days.
                       

We understand the process is an anxious time, so we work quickly and efficiently to deliver results.
As active members of the Society of Hair Testing (SoHT), DNA Legal is at the forefront of this field. Should you have any questions, our customer service team is ready to support you every step of the way. Please call us on 020 3199 7397.